THE NEW 2013 VERSIONS HAVE ARRIVED!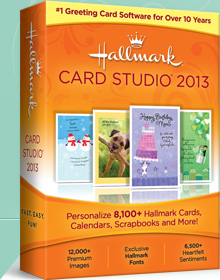 OVERVIEW

Product Highlights
3 Easy Steps
Creative Projects
Digital Picture Placer
Premium Graphics & Fonts
Event Planner
System Requirements
Hallmark® Card Studio® 2013

The #1 Greeting Card Software for Over 10 Years
8,100+ Hallmark Cards & Creative Projects
12,000+ Premium Graphic Images
6,500+ Hallmark Sentiments
Exclusive Hallmark Fonts




For more than 100 years, Hallmark has designed greeting cards for life's special moments. Hallmark Card Studio 2013 extends this tradition making it easy to create one-of-a-kind Hallmark cards as unique as the people you care for. From birthdays and holidays to special occasions and everyday greetings, you'll find the perfect card for virtually any occasion.
But cards are just the be ginning. Bridge the miles between family and friends with photo cards in a variety of new sizes, 3D calendars, scrapbook pages, invitations and announcements - all customized with your heart-felt message. Even add your own digital photos - then print, email or share on Facebook or on other popular social media websites.
With 8,100+ cards & projects, 12,000+ premium graphics, 6,500+ heartfelt sentiments and exclusive fonts, the creative possibilities are endless. It's amazing what you and Hallmark can do together!

PRODUCT HIGHLIGHTS
More! 8,100+ Hallmark Greeting Cards and Customizable Projects
More! 12,000+ Spectacular Graphics
More! 6,500+ Hallmark Sentiments
New! User Interface is faster and easier than ever before
Enhanced! Matching Envelope Library displays more coordinating envelopes
New! Gift Bags, Collages and Holiday Newsletters design projects
Easy integration with Facebook and other social networks
Enhanced! Hallmark Graphics Collection with even more images
Digital Picture Placer for adding favorite photos
Hallmark Writing Etiquette Guide with writing tips and ideas
A video tutorial gets you started fast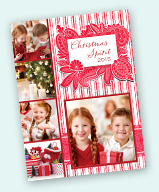 SCRAPBOOK PAGES
Commemorate the special events in your family's life by creating beautiful scrapbooks you'll treasure forever.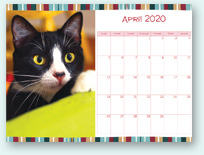 CALENDARS
Customize monthly, weekly and daily calendars. You can also include holidays and special events from your Event Planner.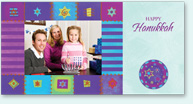 4"x 8" Photo Cards
Create personalized family photo cards for holidays or virtually any occasion.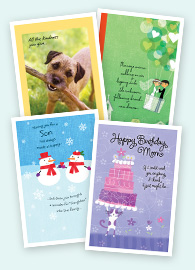 HALLMARK GRAPHICS COLLECTION
Complement your cards and projects with brand new Hallmark images.

E-CARDS
Email personalized cards for any occasion with music & prerecorded sounds. Even share on Facebook® and YouTube!®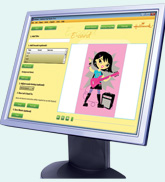 3 EASY STEPS

Create Personalized Cards in 3 Easy Steps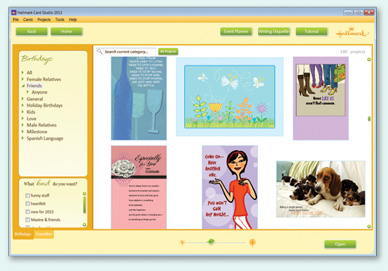 Select from thousands of cards, invitations, labels and more.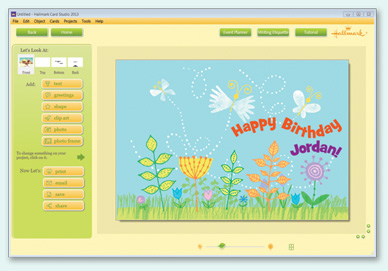 Add your own unique message or personal photos. Then change fonts, colors or graphics.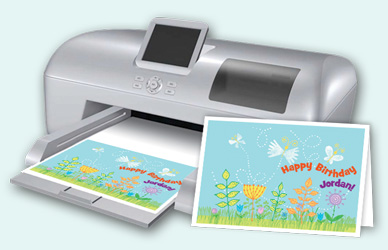 Print, email or create a PDF of your one-of-a-kind creation. Even share on Facebook®.
CREATIVE PROJECTS

8,100+ Cards and Projects
Create your own one-of-a-kind Hallmark cards for friends and family with Hallmark Card Studio 2013! It's the fast, easy and fun way to create customizable Hallmark cards for any occasion - from birthdays and anniversaries to Christmas and Valentine's Day!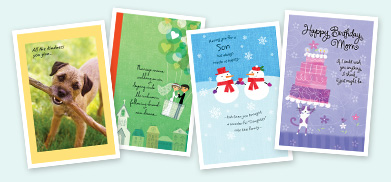 Hundreds of Projects
Hallmark Card Studio 2013 also helps you capture life's special moments with customizable scrapbook pages, photo frames, stationery, invitations, stickers and award certificates. Also included are personal calendars to keep track of daily, weekly and monthly activities.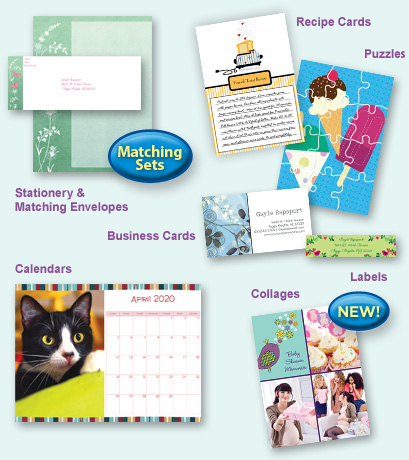 DIGITAL PICTURE PLACER

Personalize Any Card with Your Photos!
There's no better way to personalize a Hallmark greeting card than by adding a family photo captured from your digital camera or phone.
With Hallmark Card Studio 2013, you can insert photos directly into your favorite Hallmark card. You can also capture life's special moments in beautiful photo frames or create custom photo newsletters to bridge the miles between family and friends.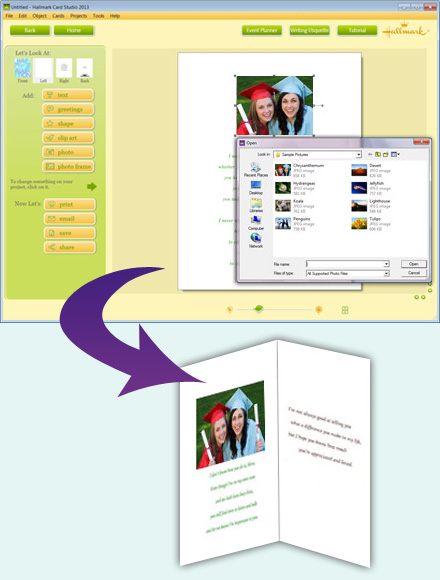 PREMIUM GRAPHICS & FONTS
Hallmark Graphics Collection
To give your cards a truly unique look, we've included a sensational array of clip art images suitable for any occasion. You can also import your own clip art and add to any card or project.

Turn your Photos into Personalized Cards & Projects
Personalize your cards & projects using over a dozen handcrafted Hallmark fonts.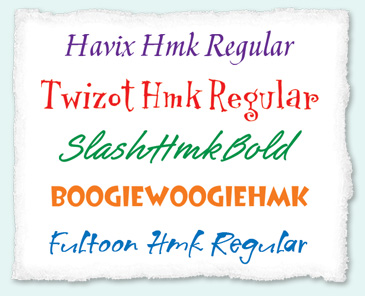 EVENT PLANNER
Keep track of the birthdays and anniversaries of the important people in your life. Date notification means you'll never miss an important Hallmark card event again.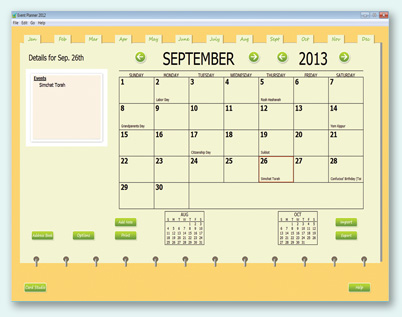 The customizable Event Planner in Hallmark Card Studio Deluxe is a fool-proof way to remind you of birthdays, anniversaries, graduations and other major events for all the special people in your life! You can also create eye-catching photo calendars that display holidays and events from your Event Planner.
SYSTEM REQUIREMENTS
Windows® XP, Vista®, 7 or 8
Intel® Pentium® 4 or faster
512 MB RAM
DVD Drive
Color Printer
Internet Connection Required to Use Download Version